NASSP 1b is formerly my first ADD-ON.
Itís design as started with McDOPEís Saturn 1b first Beta
Event though it may looks similar, the code is totally different.
First stage Mesh has been redesigned by Bad Hodges from SimNasa
APS mesh addition to SIVB from myself
I Redesigned Service Module mesh from a sample by Shrox.
Command module mesh has been designed from a public sample
And ASTP Docking module mesh is from Felipe Comparini (ObiWan)
Joel Rogers (Capt Joel) and David SundStrom (Orbiter Fan) has also contribute a lot to help me with their tests and ideas.
Autopilot is derivated from Vinkaís one and many code basic functions had been implemented from public samples mainly by Rob Conley (Estar).
Above all, NASSP Apollo Stack uses parachute meshes from AMSO Add-on (Apollo Mission Simulation for Orbiter) from Acsoft.
Latest release is NASSP-1B-3.01 †Redesigned for Orbiter build 021202 Ė Some modification has been made especially to be compatible
<![if !vml]>
<![endif]>
Early inboard engine Shutdown 6s prior to booster separation
<![if !vml]>
<![endif]>
Stage separation The three Vernier engines provides positive accel to enable SIV-B Engine start
<![if !vml]>
<![endif]>
escape tower Jetison at T + 180 sec (30sec after staging)
<![if !vml]>
<![endif]>
At Orbital injection, Autopilot stops main engine, you can now Press J key to jetison SIV-B and open ASTP docking module housing.
The ASTP can be use either to achieve the FULL Apollo Soyuz mission (Soyuz Add-on from McDOPE) is required.
<![if !vml]>
<![endif]>
It can also be used as the fake target used for docking testing purpose on Apollo 7 Flight.
<![if !vml]>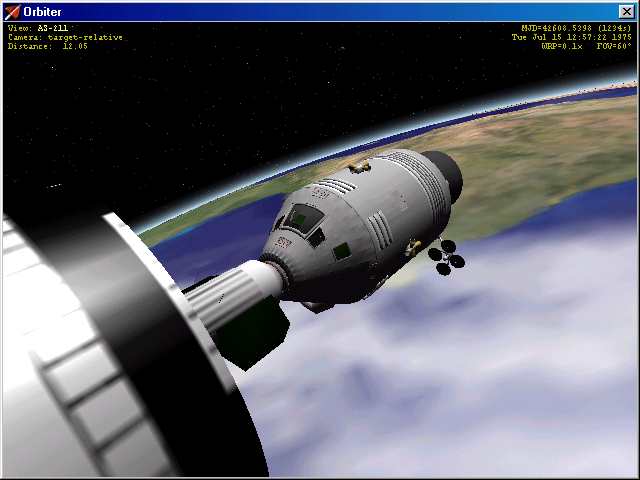 <![endif]>
Once Docked, press the 1 key (not numpad 1) to jetison SVI-B and Activate the ASTP docking port.
<![if !vml]>
<![endif]>
The pictures under Show Astronaut performing EVA from Apollo while docked to Mc Dope and Obiwan Soyuz ASTP vessel.
<![if !vml]>
<![endif]>
Press 1 key to release ASTP Docking module (you can redock with ASTP and by pressing 1 key again activate it back)
<![if !vml]>
<![endif]>
After Deorbit Burn, time to prepare for Reentry....
<![if !vml]>
<![endif]>
Hot picture...
<![if !vml]>
<![endif]>
Whoops Parachute are opening (A great to Alain Capt for his wonderful parachutes meshes from AMSO)
<![if !vml]>
<![endif]>
Itís the end of the road
<![if !vml]>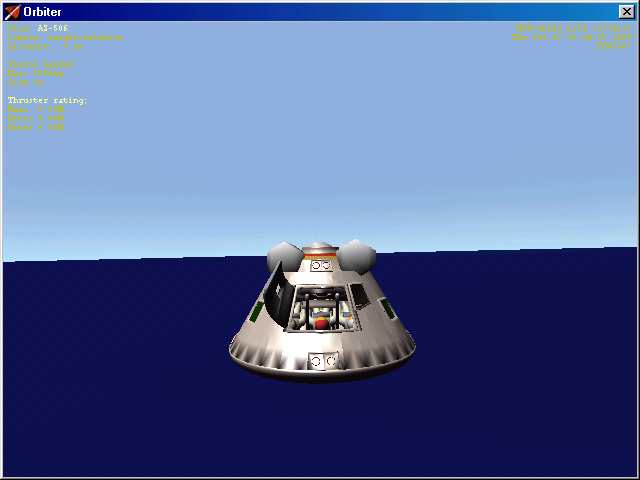 <![endif]>
Finally Splashed down....